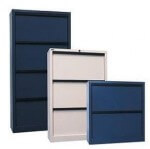 A filing cabinet is one of the most important things to have in your office whether at work or at home. Nothing else can get more frustrating than attempting to organize your paperwork and other files without a suitable place to store them. By implementing a filing system, you can save time and energy in organizing, locating and sorting out your important documents.

Initially, you may assume that your old reliable desk drawers or bookshelves offer sufficient space for your documents and files. However, you can never be too sure about, since it is inevitable for more files to pile up each week. This situation is typical if you manage a business or a company where you need ample space to store receipts, employees' contracts and info sheets, and several other paperwork in the office.

If floor space is an issue in your office, then you may opt for a vertical file cabinet that takes up a minimal space in your room. You can find small file cabinets that can fit neatly under an office furniture, and their design blends perfectly into any office setting. Moreover, these cabinets are cost-effective and offer great value for your money.

Filing Cabinet Auckland - Great Quality Cabinets For Your Needs


When looking for the best filing cabinet, you should consider the durability and hard-wearing features of the furniture. Make sure the cabinet is made of high quality materials, so you can expect the long lifespan of the furniture. Furthermore, the cabinets should be available in a wide range of design, colour, style and size. This way, you can have more options in determining the most suitable filing cabinet style that you want.