www.ccfnz.co.nz
Commercial Furniture
Factory Direct
0800 800 507
Electric Standing Desks NZ
The many benefits of using a sit to stand desk nz have been widely popularized over the past few years. These desks are said to help users avoid some of the negative health effects of living a sedentary lifestyle including backache and the increased risk of developing heart disease, diabetes, weight gain and obesity among others. Furthermore, by promoting an active lifestyle, these desks can also lead to enhanced energy levels and productivity of workers.
The right desk should make it possible for you to work from a sitting or standing position without compromising on the quality of your work.
There are many different types of sit to stand desks, including electric and manual variants; with the former being the more popular option. To learn more about how to choose the best electric standing desks NZ has to offer, read on below.
What Is An Electric Standing Desk?
In the simplest of terms, an electric sit-to-stand desk can be defined as a free-standing height adjustable desk that is lowered and raised with the help of one or more motors. These desks are normally operated using a simple control unit mounted just under the desk.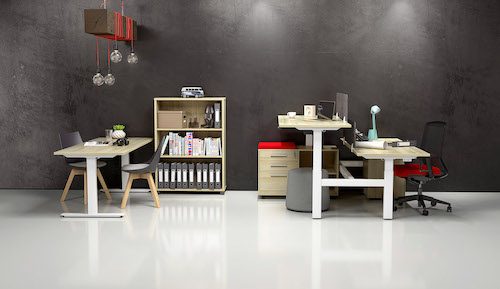 Reasons To Choose An Height Adjustable Desk NZ
As previously mentioned, electric desks are more popular than their manual counterparts. This is due to a number of reasons including:
Ease Of Operation: Operating an sit stand desk NZ is simple and straightforward. All you need to do to adjust the desk's height to your liking is to press a button, and leave the rest to the electric motors. Manual desks on the other hand require more work when it comes to adjusting them to your preferred height. Users have to manually crank the desk; something that requires a lot of time and effort. As such, some users may not take advantage of the sit-to-stand feature as frequently as they should when using manual desks, as they would when using electric variants.
Noise: When using standing desks nz, it is important not to feel like you are disrupting everyone else in the vicinity by making overly loud and unnecessary noise. Standing desks are generally quieter than their manual counterparts. This means that you can freely adjust the height without feeling like you are disturbing your co-workers or anyone else who might be sharing your work space.
Memory Settings: Another endearing feature on stand up desks nz comes in the form of memory settings. With this feature, you can be able to return to your ideal height each time you want to sit or stand, with minimal hassle.
All in all, the above features and characteristics of stand up desks make them a great choice for anyone looking to enjoy their associated benefits to the maximum.
What To Look For In The Best Standing Desks NZ
All electric desks are not equal. And, if you want to get the most out of your new desk, it is important that you find one with the right features – in line with your preferences. Here are some of the main factors to consider during your search for in the best adjustable desk NZ has to offer:

Range Of Adjustment
To ensure that your new sit stand desk effectively helps you reduce the health risks of sitting for extended periods of time, and ensures that you reap the maximum ergonomic benefit of use, it must come with the right range of adjustment. This means that the desk must be capable of being raised or lowered to comfortable heights for both taller and shorter users respectively.

Design And Customisation Options
The right standing desk should be suited to your preferences and the needs and requirements of the intended application. With that in mind, it is important that you find a desk that is designed to properly and neatly accommodate any power or network connection cords. Furthermore, the desk should come in your preferred colour so as to match your work space's décor.
Lift Weight
When looking for the perfect desk, be sure to consider its lift capacity. If you need to place number of monitors, speakers, a desktop computer, books and other office supplies on the desk, it is important to look for a desk with the necessary lift capacity; otherwise, the desk will struggle to lift all the added weight. Overloading a desk can lead to malfunctions or unnecessary/early breakdown of components such as the motor(s).
Assembly Requirements
Before you can use your new height adjustable desk NZ, you will need to assemble it. To ensure that everything works as it should, the desk must be assembled correctly. As such, it is best to choose a desk that is easy to assemble.
Extra Features
Electric sit-to-stand desks come with a variety of important components chief among them motors and controllers. While some desks may come with one motor, others will be fitted with a motor on each leg; thus, easing the strain on each and enhancing their operational life. Furthermore, some motors feature faster and quieter operation than others. Lastly, some desks come with memory controls included on the control unit.
Quality Guarantee
Different manufacturers offer different types of warranty coverage on their stand up desks. Some manufacturers cover the frame and desktop separately from the electronic components of the desk; while others offer combined coverage.
Conclusion
Choosing the best standing desk NZ has to offer can be quite challenging given the wide selection of the options on offer. However, with the above information on how to choose the right desk in mind, you will have an easier time settling on an electric standing desk that perfectly matches your needs and preferences. Capital Commercial Furniture also supplies quality ergonomic office chairs. We supply NZ Wide Whangarei, Auckland, Hamilton, Tauranga, Rotorua, Gisborne, New Plymouth, Napier, Palmerston North, Wellington, Nelson, Blenheim, Christchurch, Queenstown, Dunedin & Invercargill.
Featuring the New Agile Standing Desk - Agile Height Adjustable Desk