www.ccfnz.co.nz
Commercial Furniture
Factory Direct
0800 800 507
Student Chairs Study Chair
Students spend countless hours sitting on a classroom chair. School chairs have become significant hindrances to good health and correct posture of school-aged children and teenagers, and all the way to college. When they get home, they spend more hours on their study chair to do homework or use their computers for study or play.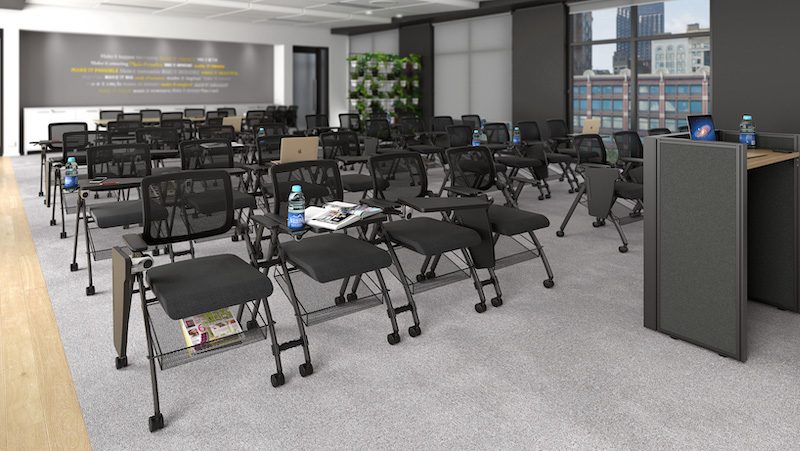 The Benefits of a Good Study Chair
Parents and school authorities should consider the many advantages of getting the correct student desk chair for learners.
Comfortable seating: A comfortable chair allows the student to stay focused and learn better. If a school chair makes them uncomfortable, they are irritated and are unable to focus. They will focus more on the discomfort than on their teacher.
Promotes movement: Sitting rigid and straight is not the best learning position. It is detrimental to a student's posture. A good student chair encourages good posture and allows for normal movement.
A healthy mind and body: A well-designed study chair will allow students to lean back, sit upright, bend, relax, or naturally move as needed. This unrestricted sitting position increases blood flow and oxygen flow to the brain, making the student healthier and more focused.
A better learning experience: A good study chair is an essential element in the learning scape of students. They are motivated to learn better and to perform well if they are in an ideal learning environment.
The Wrong Study Chair Negatively Affects a Student
Students are forced to sit on hard plastic chairs for class sessions that last at least 60 minutes at a time before they can move. They they'll face other class sessions for the remainder of the day and have to suffer even more.
The uncomfortable chairs make the students shift from focusing on the teacher to concentrating on their discomfort. Wrong student chairs make them slump forward or sit incorrectly. These ill-designed chairs will cause long-term health problems for students. They may suffer from permanent back and neck problems, occasional headaches, and migraines. As such, having a student chair that promotes positive body posture is essential for young learners.
Students as young as 7 years old should start learning correct posture. They should use the best study chair available throughout their learning years to improve health, posture, and learning habits.
Invest in Good Student Chairs
Study chairs and school chairs in NZ should be designed in a way that benefits students. If you want students to perform well in school and are concerned for their health and posture, getting the appropriate student desk chair is your best move. Invest in their health. Encourage them to study better. Buy a well-designed study chair for them now. We also supply quality student desks.