www.ccfnz.co.nz
Commercial Furniture
Factory Direct
0800 800 507
Trestle Tables
Trestle tables, otherwise known as trellis tables, have a storied history dating all the way back to the Middle Ages. That being said, though, they are far from outdated. They are still widely used because their versatility is timeless and largely unmatched by other types of tables. This is primarily due to the fact that trellis tables can fold down, making them very useful for temporary applications, multipurpose buildings, and so on.

Each table can be tucked out of the way when not in use, and they can be pulled out again easily due to their light weight and portability.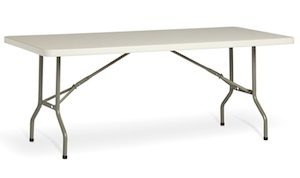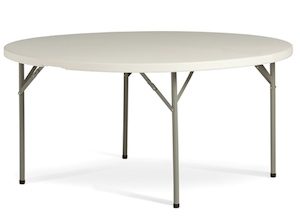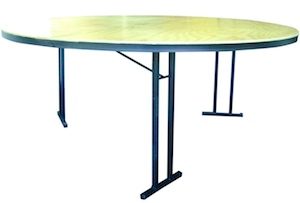 Why Buy a Trestle Table?
There are many types of tables you can use for various purposes. If you need a table that can transform any space into a multifunctional room, there are few better choices than trestle tables.
Its flexibility makes a trestle table an ideal piece of furniture to have if you often have parties, events, and functions. You can use trestle tables in:
Hotels
Church halls
Care homes
Conference centres
And more
Trestle Tables Available at Capital Commercial Furniture
At Capital Commercial Furniture, different trestle tables are available to accommodate customers' varying needs. We have trestle tables of various shapes, sizes, and materials, including wooden and plastic ones.
Wooden Trestle Table
Wooden trestle tables have the top surface made of real wood. They are cost-effective tables that are often used in venues. It depends on the manufacturer, but thick exterior-grade plywood is typically used to ensure it will last a long time and that it can handle heavy-duty use.
Plastic Trestle Table
Plastic trestle tables are also known as blow moulded tables. They are lightweight but also quite durable. The plastic trestle tables we have available are made of the highest quality plastic, not low-quality, recycled materials. Rest assured that you can use these tables for years.
Other Trestle Tables Available
Besides wooden and plastic trestle tables, others available at Capital Commercial Furniture include:
Rectangular trestle tables
Round folding tables
Round half folding tables
These tables are lightweight but sturdy. They come with features such as self-locking legs, enabling quick setup within seconds. Most of the tables are stackable and easy to clean, with a full steel frame and coated finish.
Get Your Trestle Table from Capital Commercial Furniture
Capital Commercial Furniture provides an extensive collection of commercial furniture. If you need a trestle table in NZ, you can easily find one online when you browse our website. Take your time looking through our pages or, you can call us to talk directly to our friendly staff. Don't hesitate to contact us if you have any questions or if you'd like recommendations. We're always here for you.
You can also view our Stackable Chairs are a great addition for your tables