www.ccfnz.co.nz
Commercial Furniture
Factory Direct
0800 800 507
Breakout Spaces For A Successful Office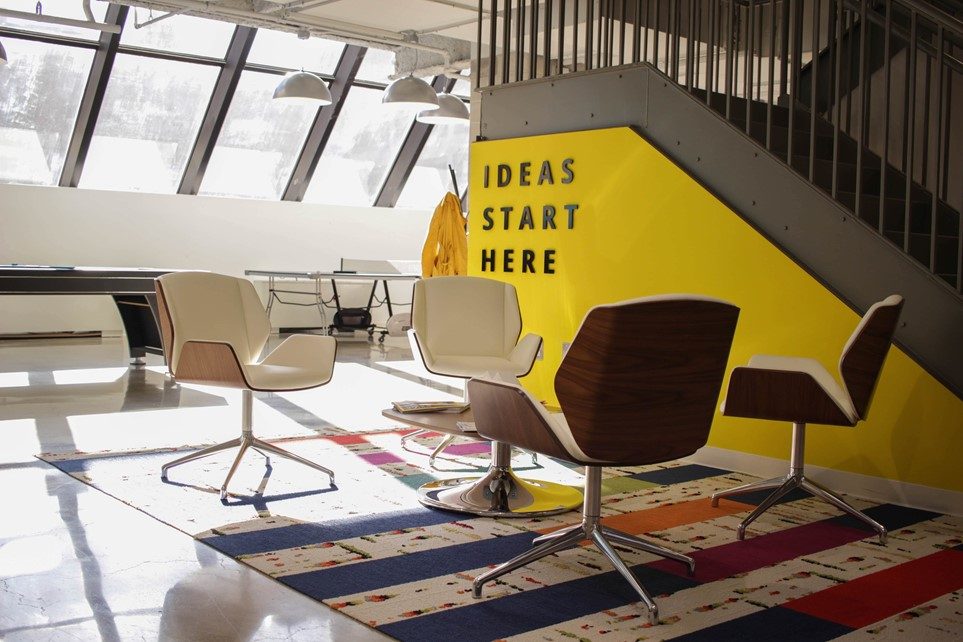 If you have ever looked at a call centre office layout and recoiled then you have experienced your mind's reaction to bad office design. So often over the past decades, biophilic design has been booted out the door in the short-term interest of budget.
Now that the long-term benefits of a healthy workspace are being quantified, companies are realising that there is a hugely profitable correlation between good workspace design and their bottom line. Within the ambit of good workspace design in NZ, comes a variety of breakout spaces that are layered with bar leaners, screening, soft seating, mixed-use and more.
Versatility, easy accessibility and non-penalised use of it for work or ad hoc naps will produce a strong team & a stronger bank balance.
Breakout Space Uses
A breakout space can be a small zone where people can have meetings, unplanned or planned, can resolve one outstanding point after a bigger meeting has dispersed or, as mentioned above, a quieter spot for taking nap or deep thinking.

Note: Napping is scientifically proven to enhance productivity and suppliers such as MetroNap and Nap It Up are making it their business while corporates like Ben & Jerry's are benefiting from implementing it.
Diverse work areas service diverse working styles and as human beings are unique, diversity is a great idea.
Pause Areas
Pause areas are a must - these are literally where you pause working and switch your mind to other topics i.e. be sociable or pause and eat and be introspective. These are generally slightly away from the main work area to prevent the laughing and chattering disturbing phone calls.
These spaces are great for building team relationships and allowing a person's brain strategic time to reset so that they can potentially come back to their desk with a new angle to a challenge they might have been wrangling with.
This space could include bar height seating with a bar leaner, a tv screen with sports on (not depressing news features), diner bench seating and some cafe tables. If it is within hearing distance of the main office, then textured and layered soundproofing screens and ceilings should be installed.
A minor food preparation counter would be great with handwashing facilities and also views of the exterior with natural light flooding in. Take it to the next level with analog or digital gaming.
Versatile Areas
A versatile area would be a breakaway space that offers a team options to approach their work differently. Perhaps someone needs to sink onto a couch with their laptop on their lap or they want to stand at a bar leaner and pace back and forth while they ponder and take notes.
These spaces should inspire creative thought but not socialising so no food preparation space is included. Think of them as a family living room with a touch of a research lab.
Add colourful scatter cushions, inspiring books, quirky lighting and low and raised seating.
Cluster Areas
Cluster areas are where deep thinking takes place or ad hoc napping. They are free of distractions and can accommodate one to four people. An electronic whiteboard would be good and a deep couch that could facilitate naps. Sliding screens or curtains can make it a 'me' space whereas the multiple seating options make it suitable for very small groups.
Use a combination of these breakaway areas to give your teams the diversity that a human mind needs to achieve its maximum productivity.
From bar leaners to comfy couches, we have a solution for your breakaway spaces!