www.ccfnz.co.nz
Commercial Furniture
Factory Direct
0800 800 507
Startup Office Essentials From Cupboard To Coffee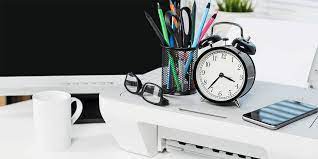 Planning a startup means you will be spending a lot more than the average working hours at the office. And talking of offices, what are the bare essentials you need for your exciting startup (besides a world map to plan global domination)?


Here is our bare essentials list that you should budget for initially from office cupboard to coffee.


Work Surfaces


The surface that your work on can be a work table or a slightly more formal desk. It depends on your business and personal preferences. Do you hub as a team or fly solo? What activities are required to perform the job, how many monitors, etc. Do you want to alternate between standing and sitting or do you need loads of space to lay out large A0 size plans or drawings?


Whatever the needs, choose ergonomic ones. You only have one body, look after it.


Office Seating


The nice segue above brings us onto ergonomic chairs. Yes, they cost more but it cannot be stated enough how very, very important these are for the ability of you or your team to maintain concentration and physical wellbeing. If you are using a piece of equipment for 4 to 10 hours a day that will affect your ability to perform at your best, don't you think it should be the best you can afford?


Each person will have different ergonomic needs. Buying 10 identical ergonomic chairs is defeating the purpose. Let each individual choose one that fits their form.


Visitor Chairs


There is nothing more embarrassing than your first couple of clients arriving at your new location and everyone is scrambling to locate a chair that isn't stained or used by a staff member.



It is important to have a couple of chairs that are dedicated for visitors only and are kept clean and crisp. Choose ones that have your branding colour for added interest/



Meeting Table


Whilst there is a hard pushback against meetings, there are meetings that are valid and have to happen e.g. brainstorming, client meetings and one-on-one staff meetings.


A nicely sized conference or meeting table is advisable with chairs for at least 6 people. It can double as the lunch table as long as the space is treated with respect and kiwi-burger sauce doesn't land up on chairs and carpets.


Office Cupboard Storage


Every office has books and files, whether they are inspiration books, user manuals, archived project notebooks, reference books or books of samples for clients, there are books. And there is stationary to be stored, marketing swag, printing consumables, project equipment and so much more.
Measure out how many linear metres of storage you will need if you laid it all out in one line then divide it out per linear metres of shelves per office cupboard. This will give you an indication of the minimum you would need.


Hanging file cupboards might be necessary or credenzas per desk. As your teams grow, you might need a cupboard per team and you could also consider lockers for staff so that personal items are not untidily draped over chairs, sitting on desks or cluttered around their feet.


Last but NOT least, you will need a coffee machine, or at the very least, a few coffee plungers and a bean grinder. No entrepreneur can maintain sanity without these items!


Get free advice from us today on your office cupboard, desk or chair needs!