www.ccfnz.co.nz
Commercial Furniture
Factory Direct
0800 800 507
Computer Chairs NZ - Top Features To Look For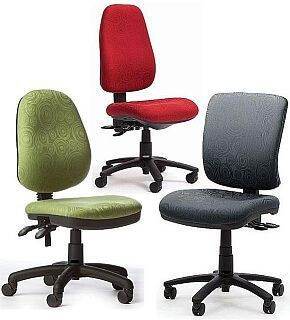 You spend many hours at your desk each day so it is crucial to ensure the chair you're sitting on is comfortable. A comfortable office chair ensures you spend more time focusing on your job and not the pain on your back. It is very hard to concentrate when you are in pain. Studies have shown that many physical pains and aches experienced by people who use computers heavily can be linked to the chairs they sit on. Uncomfortable chairs can lead to poor posture which may cause muscle soreness, neck cramps, and back injuries. When you're looking for comfortable computer chairs NZ, it is important to buy from a reliable and trusted company. Comfortable computer ergonomic chairs come with features like tilt functions, height- adjustable seats, and armrests that your body will love. When getting a computer chair, here are some top features to look for:

Function

It is important to consider the tasks you'll be doing while seated in the chair. For example, a person who spends a lot of time talking on the phone requires a different chair than a person who sits in the same position throughout the day. A well-designed chair can help eliminate safety and health issues as it offers you comfort and support.

Design

If you frequently suffer from aching legs or pain in your back, you need a computer chair that removes strain from your body while helping you to accomplish more. Computer chairs NZ come in a wide range; you can choose from basic computer chairs to chairs with adjustable seats, backrests, height, and tilt functions. A height-adjustable seat allows you to adjust the height to your own level while adjustable backrests allow you to position the chair to suit your specific task. A contoured backrest is also important as it offers your back the best comfort and support. Computer chairs NZ are created to match your spine's natural contour ensuring you don't suffer from back pain. The chairs also have sufficient depth and width to allow you to sit comfortably. Some of the chairs come with armrests to reduce pressure on your neck, arms, and shoulders. Computer chairs NZ offer complete comfort and can be used for many hours. Many of the chairs have swivel mechanism and allow you to move around comfortably. These chairs offer maximum efficiency to people who have to reach different spots in their work area.

Material and Colour


Computer chairs are available in different colours. They are also made from different materials such as leather, perfect for Executive office chairs, mesh back, or fabric. When choosing an office chair you intend to sit on for extended periods, choose one with a material that allows your body to breathe. The chair should also have comfortable padding that's not too soft or too hard. A soft surface won't offer enough support, and a hard one will cause pain after a few hours.
View Full Range of Computer Chair NZ here.
A well-designed chair is a crucial element of a productive and safe computer workstation so it is important to take time to choose the right one. Just your like your computer equipment, a computer chair is an essential part of your workstation. Computer chairs NZ offer you comfort at work helping you to become more focused and productive.