www.ccfnz.co.nz
Commercial Furniture
Factory Direct
0800 800 507
How to Find the Right Lightweight Folding Table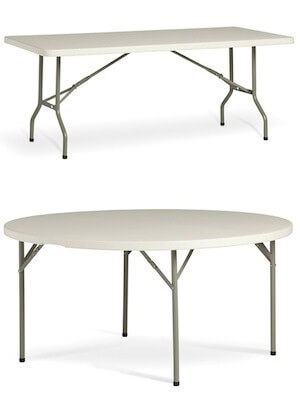 How to Find the Right Lightweight Folding Table

Lightweight folding tables often come in very handy on many occasions. They turn out to be useful when you want to organize a barbeque or garden party at home. They are popularly used in cafeterias and banquet halls, and happen to provide a versatile and economical solution for additional seating in reception halls, break rooms, dining facilities, and banquet rooms.
Unlike heavyweight tables, lightweight folding tables are pretty easy to set up and tear down for special events. Their light weight makes them easy to carry around- they can be easily moved by a single person, making setting up large events a breeze.
Lightweight folding tables are built with high-quality, lightweight materials and can withstand large amounts of weight for purposes of food service, retail display, dining, and other uses. The folding tables are available in a wide range of sizes and styles- you just have to select one that matches your specific needs.
So whether you need a temporary display space at a training session or conference, or additional seating at an event, lightweight folding tables are the ideal choice for any situation.
That being said, what should you look for when choosing a lightweight folding table? Well, this article explores some of the important things to look for when choosing the perfect lightweight folding table, regardless of the purpose.
How to Find the Right Lightweight Folding Table
With thousands of lightweight folding table options out there, what exactly should you look for? Is it the price or the design or even the material used to make the table? Well, we've come up with this easy folding table buying guide that will hopefully assist you to choose one that best suits your needs.
• How do you plan to use the table?
First things first, it's important to decide how you intend to use the table before buying. Why is that? Because lightweight folding tables come in different shapes, sizes, materials, etc. Therefore, how you plan to use it will depend on these features.
For example, do you plan to use the table inside, outside, or both? Because if you plan to use it in the outdoors, you need a folding table that is weather-resistant. A plastic or vinyl lightweight folding table in this case would be ideal. If not plastic, the table must have a rust-proof finish.
If the folding table is used as a buffet table or for dinner seating, a narrow, long table is ideal as it can accommodate more guests and offer extra surface. If you intend to use it for training sessions or conference, consider choosing a long and rectangular table with ample legroom so the attendees can sit comfortably.
As for the shape, your preferences and what you plan to use the table for will determine your selection. Rectangular tables are ideal for training sessions, conferences, and other events with many attendees. Round lightweight folding tables are perfect for use as banquet or game tables. There are also square and half-round tables.
• Choose the right material for the table
A lightweight folding table with legs that are made of rustproof aluminum, tubular steel, and other metals is bound to last many years of hassle-free use. Such a table is designed to combine sturdiness and convenience, and tends to be more cost-effective than other tables on the market.
If you intend to use it in the outdoors, say like a picnic table or patio table, a table made of these materials is an excellent choice. The surface can be topped with durable materials such as plastic, vinyl, or wood.
Again, how you intend to use the table will help you decide what material to choose.
• Consider the weight of the folding table
The weight of the folding table is something you should take into consideration. There are sturdier folding tables that may weigh a little bit more than the lighter ones. There are other sturdy and solidly built folding tables that are surprisingly lightweight.
Therefore, ensure that you're comfortable with the weight of the table before buying. If the table is to be used for a banquet or other events that involve moving furniture around, make sure that the table is lightweight for excellent portability.
• Consider the adjustability of the table
It's best to opt for a plastic folding table with a height adjustability option. If you intend to use the table for a banquet, the table should be easily adjusted to provide ample leg room for your guests.
Most lightweight folding tables are available in variable heights that range from 24 to 38 inches.
• Consider overload capacity of the folding table
Let's say you want to use the table for food service or for dining. Is the table sturdy enough to handle some extra weight? Is its overload capacity high?
Well, you will want a model that can accommodate extra weight without crumbling. Therefore, the table has to be lightweight and solidly built to withstand any amount of weight mounted on it.
• Look for safety features
For a lightweight folding table, safety is one crucial feature you should not overlook. Because the table can be folded and unfolded when setting it up, it's important to ensure that the legs have a secure locking mechanism to prevent it from collapsing when in use.
The locking mechanism will not only prevent the table from collapsing, but it will also help keep it flat while in use. All in all, keep in mind that the quality and durability of the table largely contributes to its safety and sturdiness.
• Folding for storage
Because it's a foldable lightweight table, you can easily stash it away when not in use. But then, some folding tables are a little bit large and therefore might require additional storage space. In this case, the dimensions of the table should come into play when shopping for one.
The dimensions may range depending on the size and shape. Therefore, make sure you have enough space to store the table, regardless of its dimensions.
• Consider the cost of the table
The cost of a lightweight folding table may vary depending on a number of factors like the size, shape, material used, quality, and design of the table. Of course, you get what you pay for.
It's wise to buy from a reliable dealer as you're sure to get a stable, premium quality, and reliable lightweight folding table.
• Warranty
A warranty gives you peace of mind knowing that the table you're about to buy is fully covered and should it break, it will be fixed or replaced free of charge. Most dealers provide at least 3-5 year warranty period.
Why Buy a Lightweight Folding Table from Capital Commercial Furniture?
With over 15 years experience selling commercial furniture, we strive to provide our esteemed clients with high-quality, lightweight folding tables in Auckland. Our lightweight folding tables are made with fine quality materials of the highest standards, ensuring maximum durability and outstanding performance.
Whether you're looking for tables to grace your banquet room, conference or training session, we have your back. Let us help you make your event a success by providing you with quality and reliable tables. Our prices are quite affordable than the competition and all our tables are backed by our extensive warranty.
So go ahead and place your order today and we promise you will be happy you chose us!