www.ccfnz.co.nz
Commercial Furniture
Factory Direct
0800 800 507
Office Furniture North Shore: Quality Matters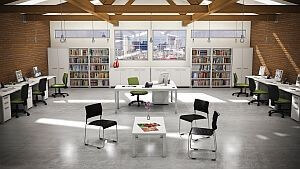 Your office is a place where you spend a lot of your time. It is therefore important to have quality furniture that will provide comfort and increase your productivity. Choosing the right office furniture can be a hard task as there are numerous designs sold in the market today. However, not all office furniture is sturdily constructed so it important to ensure you buy furniture from a reliable supplier. Comfortable office furniture will ensure that your clients are comfortable. If you run a business, good furniture will ensure your employees are safe and comfortable enabling them to increase their productivity and boost the company's sales and profits.

Quality Office Furniture Offers Value for Money

Quality office furniture offers a good return on investment. As compared to cheap furniture or second-hand furniture, this furniture is made to last. Quality office furniture North Shore is unscathed, polished, and well kept. If you buy cheap furniture or second-hand furniture because of the cheap price, you may end up paying more because of the repairs and maintenance that have to be done. If you want to save money, buy quality office furniture that doesn't require maintenance or repairs and will serve you for a long time to come.

High Quality Furniture is Stylish and Versatile

Companies and businesses often require different office furniture such as filing cabinets, office chairs, reception furniture, and computer desks. This furniture must be carefully selected in order to create a comfortable and positive work environment. Office furniture North Shore comes in a wide range and offers companies a lot of choice. Companies can choose from basic furniture, contemporary furniture, or stylish office furniture. Some of the furniture such as desk chairs are versatile and can be adjusted to fit the task. They are available in different colours and styles and go well with the rest of the office furniture.

When buying office furniture North Shore, buy from a reliable supplier. You'll be assured of getting durable and stylish furniture that will stand the test of time.