www.ccfnz.co.nz
Commercial Furniture
Factory Direct
0800 800 507
Trestle Table Wellington - The Ideal Piece of Furniture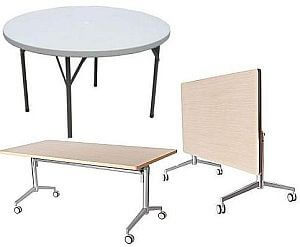 Trestle tables were really common in home's a couple of decades ago. Believe it or not, every home owner used to have them in their homes because of the simplicity and elegance they provide. Basically a trestle table is foldable and provides perfect extra space and stores away perfectly with out taking up much room. It has a basic frame with flat top that can go along with any kind of furniture and interiors. It is light so you can easily move the table from one place to another as per your choice or preference.
Over the last 20 years, there wasn't even one home that could do without a trestle table. It was one of the must have furniture pieces in home. The trend took a setback for a few years, but now it's again becoming popular among households and commercial businesses. Trestle table Wellington can be used in any part of the house such as dining room, entertainment room, or even bedrooms also perfect for school, public halls & conference centre's. You can use them against the wall or just place them in the centre of the room with a beautiful masterpiece on it. Use it in anyway and you will see the magical change it brings in your house or business. It is a multi-purpose furniture item and can be moved any where you like.
The fundamental design of the trestle table Wellington is that it has two legs that spread wide apart from each other for correct balance. It is widely used as picnic tables to serve the food and refreshments to the guests and family members in the most convenient manner.
However, if you are using it outdoors, make sure you keep the table under the shed to avoid damages from the elements.
Trestle table Wellington are available in various styles, designs and colours nowadays. You can pick any of them according to the interiors of your business or home. The blow moulded 2-piece table are most popular among people who buy trestle tables for picnic purpose. If you are looking for more elegant and beautiful tables then consider buying the ones made with melteca tops & flip up vertically. Such tables add charm and grace to the ambience and also prove to be more storage friendly.
Trestle table Wellington are really popular among people involved in group activities like dinners, household games, outdoor picnics, school activities etc. They symbolise togetherness and family. Whether you keep table in your dining room or outside in your garden, this elegant furniture piece of furniture is a must have.
Need to BUY a Trestle Table Wellington then click here.