www.ccfnz.co.nz
Commercial Furniture
Factory Direct
0800 800 507
Professional Office Furniture Christchurch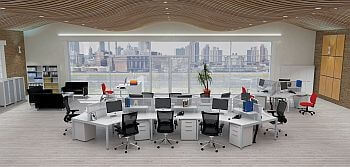 Office furniture should compliment a space and be affordable

When outlying your office there are a few things to keep in mind, space, flow, function and design. A nice simple space that looks good works effectively, and keeps office workers happy. Pleasant working environments need not be pricey. Well thought out ideas, good storage space and seating as well as work spaces is all you need. All offices work on budgets so sometimes a little professional input can help. Capital Commercial Office Furniture Christchurch supplies not only great furniture but good styles too.

When buying office furniture there are a few things to consider:


Functionality of the furniture you choose is paramount
From the boardroom right through to the reception area, you will find basically every need you require catered for. Even the ones you didn't think of before. Like which types of filing cabinets are best suited to your needs, or what would be the best shape of reception desk for your front line welcoming area. All of this adds an air of professionalism to an office. Sometimes areas need to be demarcated as the office could be open plan. Capital Commercial Office Furniture Christchurch has a keen sense of space saving and streamlining work spaces, so dividers in numerous colours are available. These can be arranged so as to be functional and pleasant to look at.
Using your budget effectively

Some items like boardroom tables can be a bit more pricey, but we have a full range from the cubit range to the Rossini Veneer Range for different budgets. Plus various chairs that you can choose from at different prices. Our site also has a sale page so make sure that you keep checking in on our special deals and offers . Some of the deals can be invaluable to cost saving and also making your office look fully professional.

Where do we deliver to?

Capital Commercial Office Furniture Christchurch, delivers furniture nationwide, at prices that are hard to beat. Since we buy directly from Wholesalers and deliver to your door. The days of searching departmental stores for your office furniture should be well and truly over, since shopping online and having it delivered saves you both time and money. There is also a nice handy online quote system on our web-page to make it easier for you.

Why use us?

There is a 12 year guarantee on our commercial furniture so you can be assured of good quality as well as good design. We buy in bulk so your furniture is already discounted, plus if you buy large orders you receive another discount. Space saving is one of our top attributes so do feel free to 'pick our brains' for ideas. You will find our site easy to navigate and our response time quick and reliable. 
Office Furniture Christchurch Click Here.

At a time where most offices are using their budgets for more effective strategy and planning, it makes pertinent sense to buy online, from trusted and well known companies of course. So save time, money and encourage good space saving and design techniques by popping on to our site and see for yourself. At Capital Commercial Office furniture Christchurch we have pretty much covered all bases.