www.ccfnz.co.nz
Commercial Furniture
Factory Direct
0800 800 507
Reception Counter furniture In New Zealand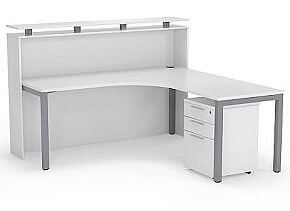 Capital commercial furniture is the first choice company in New Zealand offering a wide range of furniture and accessories. They include chairs, office desks, reception counters and desks. The company can freight NZ - wide and ensures that its clients receive a fast and efficient service at affordable prices. It is a company of repute for its value and quality throughout New Zealand. There are categories of reception counters on offer in this company. These product ranges are: Curve reception range, Stevador reception range, Kubit reception range & Ergo reception range also other custom models.
Curve Reception Range:

There are two types of this furniture available. The right and the left reception counters. They are both 2200 series.
These products are available in different colours that suit a client's office theme. Capital commercial furniture has an array of colours where customers can choose different colours. They have corrugated fronts with Bullnose edge counter tops. They come with a five year guarantee. The dimensions for each unit are 2200W by 800D by 1100H. Colour of the office influences the choice of furniture. Colours having the same theme make an office neat and attractive.

Techno Reception Range:
These are sub categorized into two groups
2400 Reception Counter
With dimensions at 2400L by 900D by 1100W, this product boasts of a lite cherry worktop and dark oak finishing. It is right ended furniture with a melteca finish. Its edges are finished using polyvinyl chloride. It can also be upgraded to suit a left end finish, techno mobile, right or left hand return. It can come with different colours. Being a non stock item, its delivery time can take from 12-15 working days from the day of order.
3000 Reception Counter
This series is similar to the 2400 series. The difference is in its dimensions. At 3000L by 900D by 1100H and a warranty of five years, this furniture also has a melteca finish. Finishing colours and designs can be customised to meet the customers' expectations. It is also a non stock item that requires 12-15 days to deliver.

Stevador Reception Range

These are beautifully designed range of reception counters. It is a range that includes a double pedestal, reception unit and a modesty panel. Products within this range are 2200 series and 2400 Series. One major factor that influences the choice of the Stevador range of reception counters is the size. Big furniture leaves little or no space for movement. Stevador range offers professionalism in providing ample working space. These ranges are available in black melteca worktop finish. Customers can choose from a variety of colours for the reception tops. Standard colours for the worktop are Spring maple, Dark oak, Lite cherry, Golden beech, Midnight blue, black and designer white. The units are combined with a PVC edge and a black melteca base. The units come with a warranty of five years. Note that the mobile drawer unit has a separate price tag from the main unit.
With the above information one can decide which reception counter to purchase.

View our Full Reception Counter range here.