www.ccfnz.co.nz
Commercial Furniture
Factory Direct
0800 800 507
Shopping for Folding Tables Christchurch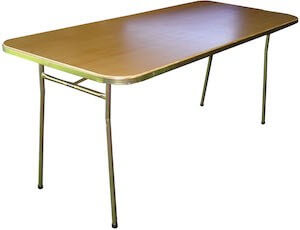 At present we make use of folding tables Christchurch both in homes as well as workplaces. Apart from being an exquisite piece of furniture, it can also serve us in various ways. It is extremely simple to maintain these tables, and they are also portable and easy to store when we are not using them. As a matter of fact, these are available at present in a wide array of shapes and designs which have become immensely popular across the world. They are also obtainable at various prices so that almost anyone can afford them. You can also shop for these tables online where the price will be comparatively cheaper than the usual market price. Moreover, any individual will also be able to make comparisons between different models online since they will be provided with lots of information regarding what to consider when purchasing them. There is likewise no need to visit the furniture shop in person, and instead do the shopping from the comfort of your residence. 

These days, these folding tables Christchurch are quite convenient and flexible to use. In case you go for any plastic or polythene folding table, it will be a really sensible choice since these tables happen to be extremely lightweight and simple to carry around. Moreover, both these types of tables are quite resilient as well as resistant to inclement weather or any type of harsh element. Consequently, it is possible to use these tables both outdoors as well as indoors. The majority of these folding tables Christchurch come with an innovative safety locking system which helps to make them quite sturdy and robust for regular usage.

One more beneficial aspect of the folding tables Christchurch is the fact that most of these happen to be water resistant. This implies that you will not find it difficult to clean and maintain them on a regular basis. You simply need to use a piece of damp cloth to wipe them for proper maintenance. On top of this, even if there is no tablecloth, these tables are not going to lose their attraction.
Below, we have mentioned some key benefits of using folding tables Christchurch:

1. Home use

Folding tables are deemed to be a popular piece of furniture over the years, and almost every household in Christchurch, New Zealand, owns at least one of them. One plus point about these tables is that they help to enhance the surface area while someone is performing some task. For instance, you will find them to be extremely useful while performing any do-it-yourself repair or even tasks like sewing within your residence.

2. Office use

Besides using them in your residence, you will also find these tables to be extremely useful for your workplace. Apart from allowing the employees to work in temporary groups, they will also enable the manager to place them in the same location as well. They can be employed while giving an important lecture on a particular topic or even while showing statistics. Folding tables Christchurch can prove to be an appropriate assistant to any workplace where bigger desks are not appropriate and there is a possibility for the space requirements to vary quickly.

3. Exhibitions

Folding tables Christchurch can likewise be used in corporate events for example exhibitions and conferences. In fact, you can easily place tables with folding legs on top of one another such that they can be easily transported to exhibitions and other such events. Moreover, it is also feasible to assemble them quickly thanks to their resilient nature in general. You can use them for various purposes from having conferences with your customers or even for displaying your products. Wooden Folding Tables are a perfect solution.

4. Barbecues and parties

Another place where these folding tables Christchurch can be used happens to be the barbecues and garden parties. You can easily pick them up and also transport them without any difficulty, and they can also be left outside while it is pouring down in Christchurch. Above all, the great thing about these tables is that you can easily clean them and get rid of the leftovers after the completion of the party.

5. Marriage ceremonies

A wedding is incomplete without a proper reception, and nothing is better to hold these events than the gardens and marquees. In fact, they prove to be much more affordable as compared to an inside location. You can easily toss a piece of colorful cloth over these tables to make them more attractive and enticing.

In the following paragraphs, we will throw some light on the important aspects that should be considered when purchasing folding tables Christchurch.

1. Size and shape

It is desirable for these tables to be rather long and rectangular in shape in case they are used in conferences and other official purposes. On the other hand, you should go for one with a long and narrow size while going for a picnic or any other social gathering for accommodating a large number of guests. Furthermore, a small square table is going to be appropriate while you are enjoying any indoor game.

2. Material

These days, you'll come across a wide variety of materials which are used for manufacturing these folding tables Christchurch including plastic, wood, metal, rustproof aluminium, and tubular steel. Make it a point to select the material depending on your personal choice, requirement, as well as financial budget. Individuals who are going for an inexpensive table should try to grab one which is made of plastic rather than wood since it is a bit costly.

3. Usage

This particular aspect will play an important role in figuring out whether you want to use an indoor table or an outdoor one. It will be sensible to purchase tables with plastic tops in case you want to use them either indoor or outdoor. On the other hand, tables having wooden tops are more useful for indoor usage.

4. Weight

It is important to ensure that you are comfortable with the table's weight prior to purchasing it. While some sturdier tables might weigh a bit more, you will likewise come across robust tables out there which are surprisingly lighter in weight.

5. Storage - Folding Table Trolleys

It will be prudent to ensure that you're able to store your table easily when you're not using it. Many folding tables Christchurch require extra storage space while others can be accommodated in small areas. Consequently, take this essential factor into consideration before shopping for the best folding table in Christchurch.