www.ccfnz.co.nz
Commercial Furniture
Factory Direct
0800 800 507
SCW Wooden Folding Tables
SCW Folding Table 1200 x 750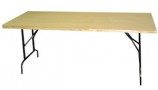 SCW Folding Table 1800 x 750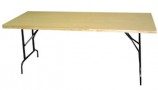 SCW Folding Table 2400 x 750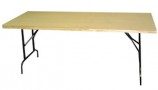 Wooden Folding Tables: Affordable Quality for Businesses
Wooden folding tables provide a vast range of benefits for any business owner or manager. The furniture is inexpensive, provides versatility and can be used for many purposes. Wooden folding tables were once only associated with backyard barbecues but now they are an essential piece of furniture that can be seen at places like retail stores and warehouses.
Foldable Wooden Table for Compact Storage
A foldable wooden table is a piece of furniture that can be used in any work environment. The idea behind it is to provide a space for work when needed, and to free up space when it's not.
The first consideration is how to store the table after use. There are many folding tables, but only some can be stored very compactly so that they take little storage space. Some designs lift up vertically when folded so that it takes up less horizontal space on the floor than the table would if fully extended and then folded on top of itself - thus saving even more room for other items in one's business place!
Small Wooden Folding Table - Perfect for Home, Office, and Classroom
A folding table is a must have for any business or home. Small wooden folding tables are perfect because they offer you versatility and are affordable. Some of the uses of one of these tables include: as a homework station in classrooms when you don't want to bother with rolling chairs; as a desk surface in your living room; as an art easel or display table at your gallery space; or as an extra dining surface when entertaining guests.
Best Portable Collapsible Wooden Table
The best portable collapsible wooden table is the one from Capital Commercial Furniture. It is made of solid raw custom wood with a timber frame, very strong. Its foldable legs make it easy to transport. It also has a spacious surface that can fit up to eight people but you can easily fold the legs in to make it more compact if needed. The collapsible table is ideal for any work environment that requires a basic, strong table.